When it comes to powerfully built midsize sedans with excellent safety features, the 2017 Subaru Legacy and 2017 Hyundai Sonata have many commonalities. However, in every category, there are a few differences that place these vehicles in entirely separate classes. In this comparison, our team at Winner Subaru will examine the details of both vehicles to deliver our customers in the Middletown, Odessa, and Dover areas the specifications they need to choose their next car.
Rethinking Your Engine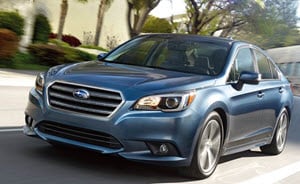 Thanks to Subaru's engine innovations, the 2017 Legacy stands apart from the competition with a premium BOXER® engine. This 2.5L 4-cylinder engine has been ergonomically designed to perform with greater balance, which means greater control for drivers. The BOXER®'s flat layout allows power to travel directly from the engine to the transmission, reducing inefficiencies. It's also built with a low center of gravity that allows the engine to drop below the passenger compartment in the event of a collision. These design advances are proven to increase safety for drivers.
The 2017 Hyundai Sonata contains a standard inline 4-cylinder engine. While this engine may produce a fair amount of horsepower, its design offers no added benefits to drivers in other categories such as control and safety. When stood against the carefully streamlined BOXER®, the traditional inline engine may appear outdated.
2017 Subaru Legacy vs. Hyundai Sonata: Safety Features
The Subaru Legacy prides itself on being one of the safest midsize sedans on the market. Having been granted a 5-Star Overall Safety Rating with top marks in every category from the National Highway Traffic Safety Administration (NHTSA), as well as a 2017 TOP SAFETY PICK+ from the Insurance Institute for Highway Safety (IIHS), few vehicles can compare.
The Legacy takes safety to the next level with EyeSight® Driver Assist Technology. This new feature offers Lane Keeping Assist, Sway Control, Pre-Collision Braking, and sends drivers warnings whenever they may be wandering. Available Starlink Safety and Security will deliver automatic collision notifications and roadside assistance in the event of an accident.
While the Sonata may have earned a 5-Star Overall Safety Rating from the NHTSA, it falls short in the Rollover category. The IIHS granted it a 2017 TOP SAFETY PICK, but notes that it once again fails to match the Legacy in categories such as headlights and child seat anchors.
Interior Style
With a sleek leather interior, comfortable seating, and robust sound system, the interior of the 2017 Subaru Legacy exemplifies relaxation. Drivers can settle into memory seating, which will remember individual comfort preferences and adapt accordingly. Rear heated seats and dual-zone climate control add extra comfort for your passengers. Together, you can enjoy a balanced 12-speaker system, complemented by Sirius XM® Radio.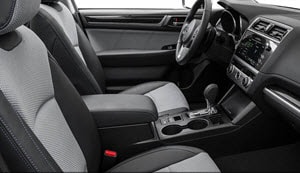 The Hyundai Sonata includes a 6-speaker audio system that, while not as full-bodied, is a fair match for Hyundai's HD Radio technology. Passengers can settle back into their cloth seating and listen to the crystal-clear reception of their favorite AM and FM stations.
2017 Subaru Legacy vs. 2017 Hyundai Sonata
After reading this comparison, you've learned about the streamlined engine and superior safety features found in the 2017 Subaru Legacy. Though the 2017 Hyundai Sonata comes close in many categories, the various shortcomings in the vehicle's technology and design leave it a step below the Legacy.
If you're in the Middletown, Odessa, or Dover area, you can test drive the 2017 Subaru Legacy by contacting Winner Subaru. We'll guide you through the many specifications that help the Legacy stand apart from other midsize sedans. Contact us today to schedule your test drive!