Are you in the market for a new sedan to get around the Dover, Middletown, and Odessa area? The Subaru Legacy and the Honda Accord are often talked about as being the most reliable sedans out there, but how do they compare to one another? Don't worry, we'll do the leg work to show you what these vehicles offer.
Our comparison of the 2017 Subaru Legacy and the 2016 Honda Accord will focus on handling and efficiency, interior amenities, and safety features. By reading this review, you'll have the necessary information to help you decide which one of these popular sedans is the one for you.
The 2017 Subaru Legacy - NOW IN STOCK!
Subaru Legacy vs Honda Accord: Handling and Efficiency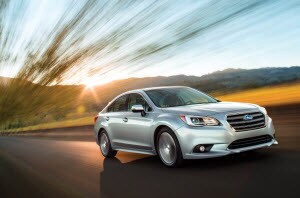 The 2017 Subaru Legacy features the unique 2.4-liter 4-cylinder Subaru BOXER® engine and the Lineartronic® CVT (continuously variable transmission). This engine lays flat under the hood and features horizontally opposed valves, which feed power into the Symmetrical All-Wheel Drive system. This system, combined with the Active Torque Vectoring, offers superior handling around tight corners and rough terrain.
The 2016 Honda Accord is outfitted with a 2.4-liter 4-cylinder engine and a 5-speed manual transmission. In terms of handling, this vehicle can perform well, although it's limited with its front-wheel drive system.
In terms of fuel efficiency, each vehicle gets an EPA-estimated 34 highway mpg. The Subaru Legacy takes the lead with its 25 city mpg compared to the 23 city mpg that the Honda Accord gets.
Interior Amenities
The Subaru Legacy and the Honda Accord are both equipped with a 4-speaker sound system. Each vehicle offers a high-resolution touchscreen display that can be used to access a variety of media.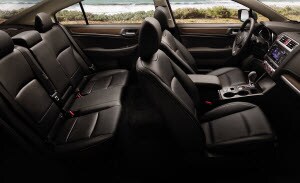 The Subaru Legacy comes with a CD player and an HD Radio® with iTunes® tagging capabilities. This radio offers crisp, clear listening and the iTunes® tagging lets you mark a song that comes on that you wish to download later. The Honda Accord only offers an AM/FM radio and a CD player.
Safety Features
Regarding passenger protection, each vehicle features front, side impact, and side curtain airbags. The Subaru Legacy also features a collapsible steering column, which is a major benefit in a collision.
The Subaru Legacy takes safety one step further due to the previously mentioned Symmetrical All-Wheel Drive system with Active Torque Vectoring. These features, if used correctly, can help to prevent an unwanted collision.
Subaru Legacy vs. Honda Accord
In this article, we looked at both of these popular sedans to show you how they differ. You learned that the Subaru Legacy offers better handling and a higher city fuel mileage. When we looked at the interior, we saw that the Legacy features a high-quality radio with capabilities to tag and remember songs that you like.
We also looked at the safety features. You saw that the Subaru Legacy has an advantage with the collapsible steering column and the drivetrain that offers great handling that can help you to avoid an accident. You simply learned that the 2017 Subaru Legacy offers you much more.
Learn more by scheduling a test drive of the 2017 Subaru Legacy with us at Winner Subaru, your go-to dealership in the Dover, Middletown, and Odessa area.