When you're deciding on your next sedan to get you around the Dover, Middletown, and Odessa area, you have a lot to consider given the variety of vehicles on the market. The Subaru Impreza and the Honda Civic are two sedans that most motorists recommend, but how can you tell which of these vehicles suits you the best? To help you answer that, we'll explore their similarities and showcase their differences so you can make an informed decision regarding your next vehicle.
In this comparison, we'll focus on vehicle handling, entertainment and technology amenities, and safety features. By reading this vehicle comparison, you'll see which of these sedans offers you more. You'll be ready to decide on the best option for your next car.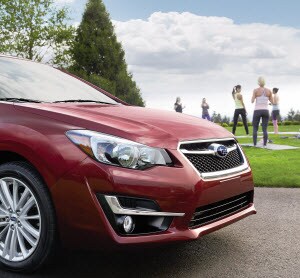 Read a full vehicle review of the 2016 Subaru Impreza here.
2016 Subaru Impreza vs. 2016 Honda Civic Vehicle Handling
You can't mention the Subaru Impreza without highlighting its impressive engine. This vehicle features a 2-liter Subaru BOXER® engine, which lays flat under the hood while it's horizontally opposed valves feed power into the impressive Symmetrical All Wheel Drive system. The Honda Civic gets its power from the 2-liter 4-cylinder engine.
Both engines achieve similar power, but the Honda Civic falls short in handling because it features front-wheel drive, which is effective but not as much as the Symmetrical All-Wheel Drive.
Entertainment and Technology Amenities
Each of these sedans is outfitted with a 4-speaker sound system. The Subaru Impreza features the STARLINK™ system, which provides a 6.2-inch high-resolution touchscreen display that you can use to access your media options. The Honda Civic is equipped with a 5-inch LCD screen.
In terms of media options, each vehicle features a CD player and a radio. However, the Subaru Impreza features an HD Radio®, which provides you with clearer listening.
Safety Features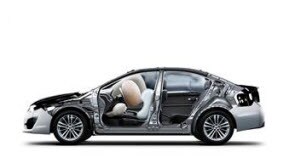 The Subaru Impreza features Vehicle Dynamic Control, and the Honda Civic features Vehicle Stability Assist. These respective systems will provide specific brake pressure to low-traction tires in the event of wheel slip. This is in an effort to guide your vehicle back to its intended path.
Each vehicle is also equipped with advanced airbags that will adjust their inflation pressure according to the severity of an impact. These airbags include front, side impact, and side curtain airbags. Additionally, the Impreza offers a driver's knee airbag, which can help to prevent unnecessary leg damage in the event of a crash.
Test Drive the 2016 Subaru Impreza
As you read this vehicle comparison, you probably couldn't help but notice that the Subaru Impreza beat the Honda Civic in every category discussed. You learned about the Symmetrical All-Wheel Drive system and the Subaru BOXER® engine. When we looked at entertainment and technology, you saw that the Impreza offers a larger screen and a higher-quality radio.
When we looked at the safety features, you saw that each vehicle offers similar protection. However, you learned that the Impreza features an additional airbag for your knee. In short, you saw that the 2016 Subaru Impreza offers you more.
Learn more by scheduling your test drive with us at Winner Subaru, your go-to dealership in the Dover, Middletown, and Odessa area.