The compact car class offers small, easy-to-maneuver vehicles that are ideal for a daily commute through Middletown, Odessa, and Dover. If you're looking to purchase a compact car for yourself, you may have encountered the 2017 Subaru Impreza vs. 2017 Ford Focus during your research.
This article from the team at Winner Subaru will compare the features of each of these cars, making it easy for you to see them side by side. Once you're armed with the proper knowledge, you can decide which of the two vehicles is best suited to your needs.
Overview: Impreza vs Focus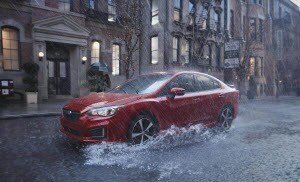 The Subaru Impreza comes with Subaru's standard all-wheel drive system, making it ideal for rough winter weather conditions in Middletown, Odessa, and Dover. The Ford Focus comes with standard front-wheel drive or you can pay extra to upgrade to all-wheel drive.
Each of the vehicles is equipped with a standard backup camera for safe reversing as well as a standard post-collision safety system.
Subaru Impreza vs Ford Focus: Cargo Space
Each of these vehicles are available in either a sedan or a hatchback model, so you can opt for the style that better suits your lifestyle. The hatchback configuration will provide you with the ability to fold down the back seats to produce a larger space to store cargo.
The Impreza's hatchback offers a maximum cargo capacity of 55.3 cubic feet, compared to the Focus hatchback's 43.9 cubic feet of maximum cargo room. The sedan body styles are each equipped with standard fold-flat rear bench seats, so you can store additional cargo in the back seat.
Front headroom in the 2017 Impreza is 39.8 inches, while the Focus offers 38.3 inches. Front legroom is identical with both models offering 43.1 inches of room. Rear headroom is also identical at 38 inches, but the Impreza offers 36.5 inches of rear legroom compared to the Focus' 33.2 inches.
Subaru Impreza vs Ford Focus: Tech Features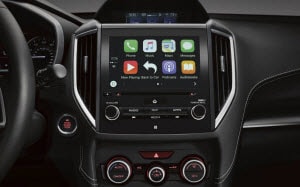 The 2017 Impreza is equipped with a standard 6.5-inch touchscreen infotainment system, compared to the Focus' 4.2-inch screen, which cannot be operated by touch. The Impreza's system features standard Apple CarPlay™ and Android Auto™, so you can easily connect your smartphone to the system in order to access your music, podcasts, and some of your favorite apps. 
Both cars offer optional navigation, driver-assisting technology, satellite radio, and more powerful audio systems, so you can choose add-on features that suit you.
Test Drive Your Compact Car
Ready to get behind the wheel of a zippy, little compact car? You can't go wrong with either the 2017 Subaru Impreza or the 2017 Ford Focus, but we think our customers will appreciate the Impreza's standard all-wheel drive, large passenger and cargo spaces, and powerful touchscreen infotainment system.
To find out how much you'll love the 2017 Subaru Impreza, contact Winner Subaru to schedule a test drive today. We can't wait to see you in our showroom! Soon, you'll be driving home in your very own Subaru Impreza.