At Winner Subaru, there's nothing we value more than the safety of our Middletown, Odessa, and Dover customers. That's part of the reason why we've chosen to specialize in these cars in the first place-they're some of the safest on the market.
Having won both a 5-Star Overall Safety Rating from the National Highway Traffic Safety Administration and a 2017 TOP SAFETY PICK+ from the Insurance Institute for Highway Safety, you know the 2017 Subaru Impreza is leading the pack. Let's take a closer look at the Subaru Impreza safety features now to see why.
Structural Reinforcements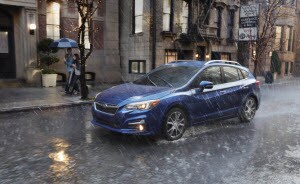 There are many reasons why the 2017 Subaru Impreza-or any Subaru vehicle, for that matter-is your most protective choice. However, it all starts with structure.
We may not often think of the powertrain and drivetrain as being safety features in and of themselves, but if constructed properly, they should be. Take the BOXER® engine found in the Impreza for example.
This specially designed engine has a uniquely flat shape with a low center of gravity. In the event of a collision, the BOXER® will actually drop below the cabin, protecting front-sitting passengers from harm.
The Subaru Symmetrical All-Wheel Drive is equally protective. Its Subaru-exclusive design allows for more careful, precise handling, keeping you safe even on tricky roads.
Augmented Performance
Once this structure is in place, several technologies are then added to both enhance your handling and your safety, starting with vehicle dynamics control and active torque vectoring. Both of these can optimize control, particularly on slick roads or when pulling in and out of a hard turn.
In the event that you might need to come to a sudden, controlled stop, the brake override system (BOS) has been installed. BOS is engaged by pressing down on the accelerator and the brake pedal at the same time. As soon as you do so, the Impreza will come to an immediate halt.
Technology with Unmatched Intelligence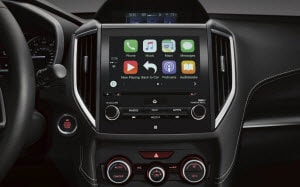 Structure and performance are incredibly important, but the true pièce de résistance in your Impreza is technology. The available EyeSight® driver-assisting suite, for instance, is a tremendously intuitive array that will literally monitor the road for you.
As part of this suite, you'll have access to features like adaptive cruise control and pre-collision braking. Both use a network of sensors and small cameras to maintain safe following distances and avoid collisions. With these features, your car can brake autonomously to subvert accidents.
However, you'll also have the available STARLINK Safety & Security™ system. If you did end up in an accident or were simply stranded on the side of the road, STARLINK could alert responders and call for SOS emergency assistance.
Subaru Impreza Safety Features - What Else Does it Have to Offer?
In any Subaru car, safety is of course going to be the top priority. However, Middletown, Odessa, and Dover drivers will find an equal amount of comfort in style in this excellent vehicle.
If you'd like to learn more, you need only call our team at Winner Subaru. We'll fill you in on the rest of the details. Contact us today for more information.
Learn more about the 2017 Subaru Impreza by reading our detailed vehicle review here.