When it comes to rugged design, Subaru knows how to craft a resilient SUV. Both the 2017 Subaru Forester and 2017 Subaru Outback are testaments to this hardy craftsmanship. While they may share many of the hallmarks of a Subaru vehicle, they've been constructed with some differences to meet diverse tastes. In this comparison, our team at Winner Subaru will inspect both models to help our customers in the Middletown, Odessa, and Dover areas discover which SUV can meet their individual needs.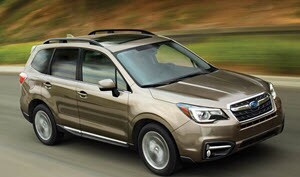 Let's start by looking at that trademark Subaru performance…
Enduring Performance
Both the 2017 Subaru Forester and 2017 Subaru Outback have been installed with a BOXER® engine. The ergonomically designed BOXER® lays flat under the hood of your vehicle, sending energy directly into the transmission to reduce engine components and increase fuel economy. That efficiency shines through in the 32 MPG highway/26 MPG city1 in the Forester, and the 32 MPG highway/25 MPG city2 in the Outback. Symmetrical All-Wheel Drive in both SUVs creates a straight line from engine to transmission and into the drive train, maximizing traction, balance, and control.
From here, it becomes clear that the Subaru Forester was designed to be a bit more eco-conscious. As a partial zero emissions vehicle, the Forester exceeds some of the strictest emissions standards in the country, offering lower carbon outputs than many hybrid vehicles can manage. Despite this eco-friendliness, the Forester is still able to produce an admirable 170 horsepower and 174 lb-ft of torque.
The Outback, on the other hand, was designed for adventure. With 175 horsepower and 174 lb-ft of torque, the Outback doesn't greatly overshadow its counterpart in terms of power. But when it comes to towing capacities, the Outback has more brawn. Thanks in part to the Subaru X-Mode, which optimizes engine output and transmission ratios and enhances the all-wheel drive system, the 2017 Subaru Outback can tow up to 2,700 pounds. Compared to the Forester's 1,500-pound capacity, that's a great deal of muscle.
2017 Subaru Forester vs. 2017 Subaru Outback: Safety  
The Forester and Outback tend to have the most commonalities in the safety category. This is because no matter the vehicle model, Subaru is always committed to constructing cars with customer safety in mind. Both SUVs have earned a 5-Star Overall Safety Rating from the National Highway Traffic Safety Administration, as well as a 2017 TOP SAFETY PICK+ from the Insurance Institute for Highway Safety.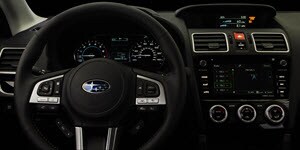 Additional safety technologies have been added to improve vehicle control and visibility. Vehicle Dynamics Control and the Traction Control System are equipped in both SUVs to ensure that whether drivers are taking a sharp turn or passing through a stretch of icy road, their vehicle will remain safely on course. Daytime Running Lights and rear-vision cameras allow drivers to see what's behind them, and ensure they're seen by other drivers. Both the Subaru Forester and Subaru Outback include a host of other technologies to protect your most precious cargo.
Interior Space
Subaru understands drivers will take their SUVs on plenty of long trips, and aims to construct vehicles with the most space possible. The 2017 Forester and 2017 Outback vary by a small number of inches when it comes to interior room. The Forester has 43 inches of front legroom and 38 inches of rear legroom, while the Outback has 42.9 and 38.1 inches, respectively. Cargo space is only a slight difference between the two vehicles, with 34.4 cubic feet in the Forester and 35.5 cubic feet in the Outback. Though they vary slightly in each spatial category, both vehicles offer plenty of room for passengers to get comfortable.
Cloth seating is available in both models, with a 6-way manually adjustable front seat for the driver. Rear seating in the Outback has the advantage of reclining for added relaxation. Easy-to-read multi-function displays are available for drivers of both the Forester and Outback, as well as a robust 4-speaker audio system.
2017 Subaru Forester vs. 2017 Subaru Outback: Review
As you've seen in this comparison, the 2017 Subaru Forester and 2017 Subaru Outback hold similarities in many key categories. Nevertheless, each vehicle was designed with a different purpose in mind: eco-consciousness for the Forester, and heavy towing for the Outback. Schedule a test drive to experience the difference for yourself.
If you're in the Middletown, Odessa, or Dover area, you can contact Winner Subaru and set up a test drive of either the 2017 Forester or 2017 Outback. If you can't decide between the two, why not try them both? Our staff can guide you through the more detailed specifications to make your choice a bit easier. Contact us today to schedule your test drive.
 1, 2. EPA-estimated fuel economy. Actual mileage may vary.