When it comes to sport utility vehicles these days, people don't just want something with powerful four-wheel drive. In fact, for many drivers in Odessa, Middletown and Dover, off-roading capability is a nice luxury but is secondary to comfort and driving experience.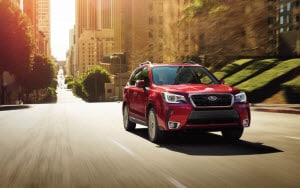 Of the many crossover sport utility vehicles on the road today, the Subaru Forester is one with a reputation for delivering a superior balance of technology, performance, features, and design.  Explore the 2018 Subaru Forester interior, its touches, features, materials, technology and comfort offerings, and learn where you can go to try one out.
Breakdown of the Subaru Forester Interior
If you're looking for an SUV that will deliver a near luxury experience without the cost of a luxury badge, the 2018 Subaru Forester interior has what you're looking for. From the latest in technology, driver aids and infotainment to high quality materials, everything you need for a superior driving experience is all right there.
Materials and Room
The interior cabin of the new Subaru Forester is well appointed. It's actually the very archetype of what refined understatement should be. The materials are sturdy and solid without being harsh and feature a soft-touch grain, the seats are high enough to provide a fantastic range of vision, there's plenty of ground clearance which makes for a very easy time getting in and out, and the doors open wide. Front and back seats are just as easy to access, and they're quite comfortable overall.
Subaru Forester Technology
Subaru is known for its outstanding infotainment, driver aid and safety technology, and these packages go together to form a very refined experience when you're in the cockpit. The Subaru Starlink Technology interface with touchscreen interface, full smartphone app integration, Bluetooth functionality, and high-quality speakers with additional auxiliary and USB ports and voice commands, satellite radio, GPS navigation and more take your entertainment to a new level.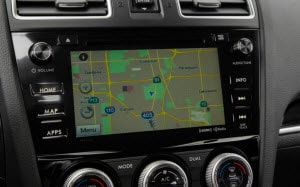 Driver aid and safety features like lane departure warning and lane keeping, adaptive cruise control, frontal collision warning and mitigation, and all of the other features that come in Subaru's unique EyeSight Safety Package add to the comfort and security you get behind the wheel.
If you are in an accident, you can count on the Starlink Safety Plus Telematics system to provide automatic collision notification, emergency assistance and a number of other remote services to ensure that help gets there as soon as possible.
Subaru Forester Performance
Part of a vehicle's comfort and interior comes down to how it feels to drive. The Forester may be the best performing vehicle among its class, and delivers very confident braking and perfect handling, as well as a number of driving modes from which to choose. It accelerates confidently without any sense of jerkiness or hesitation, and it has highly accurate steering. The controls are easy to spot and reach, and intuitive to use.
Test Drive the Forester at Winner Subaru
If you're in the Odessa, Middletown or Dover areas, and you're interested in experiencing the 2018 Subaru Forester interior for yourself, Winner Subaru can help. Stop into our showroom or give us a call about getting into the cabin today!
Learn more about the 2018 Subaru Forester by checking out our detailed vehicle review.