If your crossover vehicle doesn't have the right amount of cargo space and hauling capacity, then it's simply not up to snuff. Luckily, the 2017 Subaru Forester doesn't have these problems. Built with ample room and rugged functionality, no matter what our customers in the Middletown, Odessa, and Dover areas need to transport, the Forester will be up to task. To show you, our team at Winner Subaru has written this helpful review of the vehicle's exceptional capabilities.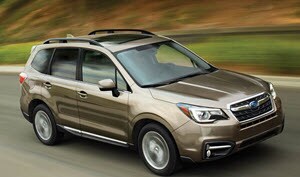 The Bottom Line
With its efficient design and many included accessories, the 2017 Subaru Forester was built to handle both adventurous all-terrain handling and everyday city driving. 34.4 cubic feet of cargo volume sits behind the second row, putting several larger SUVs to shame, and allowing the Forester to haul your luggage, athletic equipment, shopping bags, and so much more.
If you desire even more space, feel free to fold over the 60/40 split flat folding rear seat backs to increase cargo volume to 74.7 cubic feet. With the original cargo volume more than doubled, you can haul some pretty big equipment.
Hidden Nooks
Understandably, not every piece of cargo is going to fit inside your Forester. If you're heading out to the lake to go kayaking, for instance, you'll have a hard time fitting that in your trunk! Fortunately, there's an option for your Forester to come equipped with high-strength roof rails. That way, your cargo can sit securely on the roof.
There are many nooks and crannies built into the vehicle's interior to stow away smaller items. The practical, multi-function center console includes a rear storage box and illuminated front storage tray, as well as two cup holders. And the overhead center console includes storage for sunglasses. Meanwhile, the cargo area includes its own under-the-floor storage area. Here, you can stow your more private items.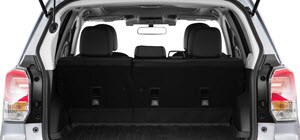 Nifty accessories are included to make hauling easier. For instance, the cargo area is installed with grocery bag and tie-down hooks to help keep items secure. An easy-to-clean cargo tray is also available to protect your interior from mud, sand, or any other messy elements.
Hitch What You Can't Fit
Even with all the storage space included inside your Subaru Forester, some pieces of equipment were not meant to fit. For these larger, much trickier jobs, your vehicle has a towing capacity of 1,500 pounds. Add an available Subaru trailer hitch so you know you have the perfect fit for your Forester.
When you're pushing your towing capacity to the maximum, don't worry too much about how your car's handling. The 2017 Subaru Forester includes construction and technology features that allow it to stand up to large hauls. Symmetrical All-Wheel Drive and Vehicle Dynamic Control, for example, will prevent your car from slipping or swaying when towing heavy weights. And a rigid 4-wheel independent suspension will ensure that handling remains precise during turns and on bumpier roads.
Learn More about the 2017 Subaru Forester Cargo Space
If you're considering a vehicle such as the 2017 Subaru Forester, then you might have some adventures in mind. Whether you're carrying a load of camping equipment or simply returning from the supermarket, the Forester was designed to carry it all.
Any residents in the Middletown, Odessa, and Dover areas looking to strike out on some adventures of their own can contact Winner Subaru for more information. We'll explain just what the Subaru Forester offers. Stop into our showroom to check out the Subaru Forester's cargo space today. Contact us for more information.