When driving, nothing is more important than your safety. With all the incredible technology available today, all cars should include the measures to keep you and your family protected no matter what.
When Middletown, Odessa, and Dover drivers want to stay safe, they can always turn to the 2017 Subaru Crosstrek. To show you just what this vehicle has to offer, the Winner Subaru team has put together this detailed Subaru Crosstrek safety features review.
Safety Commendations
While we can make as many claims about Crosstrek safety as we'd like, none will say quite as much as the commendations granted by some of the country's top vehicle safety organizations.
In 2017, the Subaru Crosstrek receives both a 5-Star Overall Safety Rating from the National Highway Traffic Safety Administration, as well as a TOP SAFETY PICK from the Insurance Institute for Highway Safety.
These awards are earned due to the tremendous structural safety of the SUV. With its ring-shaped reinforcement frame, the Crosstrek can stand up to impacts with aplomb.
Protection Through Performance
In recent years, the Subaru BOXER® engine has become well-known for its streamlined performance, granting drivers with extra speed and efficiency. However, did you know that this design also includes a major safety benefit?
The BOXER® is characterized by its flat design and low center gravity. While these can on one hand increase performance, they can also increase protection. In the event of a collision, that low center of gravity would pull the engine below the passenger cabin, protecting occupants.
Furthermore, the Crosstrek comes equipped with the Subaru Symmetrical all-wheel drive (AWD). Unlike other AWDs, Subaru Symmetrical lines up the engine, transmission, and drive train in a straight line, offering optimum traction and handling.
Intuitive Technologies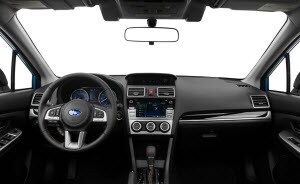 In addition to some of its more standard safety technologies, such as vehicle dynamics and traction control, the Crosstrek also comes with available EyeSight® driver-assisting technology.
This suite of features includes several smart gadgets which can, in some cases, act autonomously for your benefit. Pre-collision braking, for instance, uses a network of sensors to monitor following distances. If it detects an oncoming collision, it will hit the brakes for you.
Pre-collision braking works hand-in-hand with adaptive cruise control, which can alter vehicle speeds to ensure you don't follow another vehicle too closely. A lane departure and sway warning have also been added to prevent you from drifting dangerously out of your lane.
Test the 2017 Subaru Crosstrek Safety for Yourself
It's not enough just to read about these awesome features. For Middletown, Odessa, and Dover drivers to understand just how capable the 2017 Subaru Crosstrek is, they'll have to test it for themselves.
Contact out team at Winner Subaru today, and we'll help you get behind the wheel!