If you're the proud owner of a 2017 Subaru Outback, then you know that you've made the right choice. This versatile vehicle excels in performance and efficiency while offering a great degree of style, features, and comfort. But if you want to keep your vehicle performing at its best, you should closely follow the vehicle's maintenance schedule.
To help you learn about the different services your Subaru Outback will need over the years, we're going to supply you with its maintenance schedule. By following it and keeping up with the necessary maintenance, you can actually increase the vehicle's lifespan. Routine maintenance is also a great way to find minor issues before they become major problems.
Understanding Your Subaru Outback Maintenance Schedule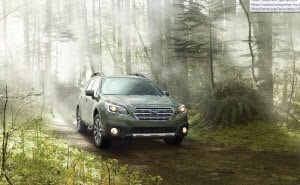 You don't have to be certified technician to understand your maintenance schedule. Following it is actually pretty easy. Your schedule is broken down into mileage intervals that'll correspond with a number of different services that you should have performed when you reach that mileage. You should also note that those services must be repeated each time you add that specific mileage to your Subaru Outback. This is your Subaru Outback maintenance schedule.
Subaru Outback Maintenance Schedule
6,000 miles: At this mileage, you'll need to have your oil and oil filter replaced. Your tires should also be inspected and rotated.
12,000 miles: While you should have the previously listed services performed, there are a few new ones to add to the list. You'll need to have your air conditioner filter replaced. You'll also need to have your brake lines, pads, discs, axle boots, and steering and suspension inspected.
30,000 miles: During your 30,000-mile visit, you'll have a few of the standard services and inspections performed, along with a few new and important services. You'll need to have your air cleaner element replaced, as well as your brake fluid and clutch/CVT (continuously variable transmission) fluid changed. Your engine coolant systems, drive belts, and transmission/differential lubricants should all be inspected thoroughly.
60,000 miles: At this particular visit, you'll need to have your steering, suspension, and wheel bearings all inspected. You'll also need to have your spark plugs replaced during this service interval.
137,500 miles: After you've had numerous services performed over the months and years, this service interval adds an engine coolant replacement to your list of services.
Getting Your Subaru Outback Serviced
Now that you're aware of the many services your vehicle needs, and the specific mileages that indicate when to have those services performed, you're ready to keep your Subaru Outback lasting the years. If you need somewhere to have these services met, look no further than Winner Subaru. Our service center is here for you, and our skilled technicians will ensure that your vehicle gets the necessary service and attention it needs to perform at its best. Let our team at Winner Subaru help you keep your vehicle in the best of shape.
At Winner Subaru, we're always proud to offer our services to drivers in the Middletown, Odessa, and Dover areas. Schedule your next auto service with us today!