Cars like the 2018 Subaru Crosstrek are great for getting around Middletown, Odessa, and Dover. They offer versatile performance that's capable of helping your in your day to day and weekend adventures.
But how do you know when to get maintenance, so it keeps running effectively? Winner Subaru put together this 2018 Subaru Crosstrek dashboard symbols guide to help you know what your car is trying to tell you.
ABS Light

If you ever see the letters ABS that's a sign that there's been a malfunction with your anti-lock braking system. This does not mean that you won't be able to stop. Your regular brake system can still do that, but this is not something to ignore. Drive slowly to your Subaru service center to get this fixed right away.
Brake System Warning
When your main brake system has a malfunction, or is low on brake fluid, you'll either see the word BRAKE or an exclamation mark inside a circle. This is more serious because it means you will not be able to stop as well as you normally can. Pull over right away and call for your car to be towed to a service center. 
Low Engine Oil Levels
The next light looks like an old-fashioned oil can, or a flat tea pot, floating on some waves. This means that you're low on oil. You're probably in need of an oil change. Schedule service but try not to drive much more with low oil. It can create problems with your engine. 
Power Steering Warning
This light is critical to being able to control your car. It looks like a steering wheel next to an exclamation mark. It means that you're either low on power steering fluid or your power steering system is malfunctioning. Either way, you should stop somewhere and get your Subaru towed to a service center if you see this light. Continuing to drive could be dangerous if you can't steer properly.
Charge Warning 
This light looks like your car battery and indicates a problem with your electrical system. Either your battery is low and needs to be replaced, there's a malfunction in the electrical system, or your alternator has a problem. Drive straight to a service center if you see this. Stopping the car is a mistake since you may not have enough power to turn it back on. 
Coolant Temperature Warning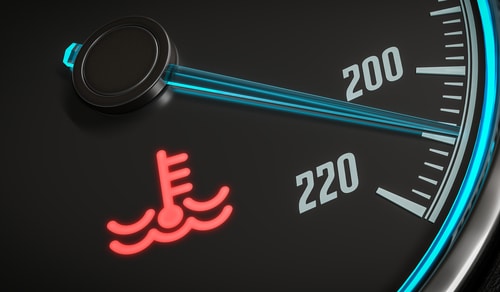 When you're low on coolant or your engine is starting to overheat, you'll see a light that looks like an old thermometer floating on some waves. You should find somewhere to stop and turn the engine off. Let it cool down, then drive slowly to get service and more coolant added.
Low Tire Pressure
Your Tire Pressure Monitoring System looks out for you by telling you if any of your tires have low air pressure. When one or more of them does, you'll see a light that looks like an underlined set of parentheses with an exclamation mark inside. Check your tire pressure and add air as needed. 
All-Wheel Drive Light
The 2018 Subaru Crosstrek comes standard with all-wheel drive. If your all-wheel drive ever malfunctions, you'll see a light that says the letters AWD. Consult a service technician if you see this to get your all-wheel drive functioning again.
Subaru Crosstek Service
At Winner Subaru, we're proud to be able to address these and other service issues for drivers in Middletown, Odessa, and Dover. To learn more about these 2018 Subaru Crosstrek dashboard symbols, contact us or schedule service online.