Any other day of the week, heading to your local sports bar for a beer would be perfectly suitable. On St. Patrick's Day, your cold brew is more than just a beverage-it's a tradition. To honor that tradition, you need to treat yourself to a better bar experience.
In Lewes, DE, there are plenty of exceptional pubs to choose from. At Winner Subaru, we have three favorites that we know are a cut above the rest.
Crooked Hammock Brewery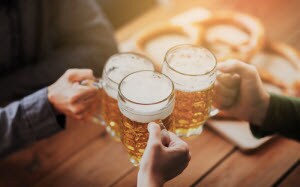 This holiday, most pubs you head to are bound to have pitchers of Miller Lite and pints of Guinness on tap-but what if you want something a little more unique? There's no shame in reaching for a craft brew instead.
At Crooked Hammock Brewery, you'll usually find 10 beers on tap at any time: six delicious seasonals, three mainstays, and one limited release cask. Add that to a full menu of beach inspired food and rollicking live music, and you're bound to stick around for hours.
The Crooked Hammock atmosphere is all about relaxation. Check out photos on their website and Facebook.
Irish Eyes Pub & Restaurant
Nothing complements your beer better than a traditional Irish meal. For over 30 years, Irish Eyes Pub & Restaurant have been serving up classic fare with a local twist, honoring both the Irish culture and the Delaware beach vibe.
Irish Eyes are most well-known for their happy hour, which features some of the best drink and food specials in town. Stop in to sample their large menu, which includes Irish favorites as well as a raw bar and tacos. No matter what you're in the mood for, they've got something for you.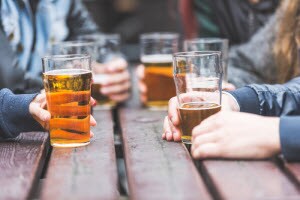 The pub is hosting an Irish rock band this St. Patty's Day. Check their Facebook and Twitter for updates.
Rose & Crown
Maybe you're looking to treat this St. Patrick's Day as a date night. In that case, the Rose & Crown is a self-described upscale British pub that mixes classic bar food with more refined cuisine.
To complement your traditional English meal-perhaps savory bangers & mash or mouthwatering Canterbury pork-the Rose & Crown offers a variety of craft beers and rotating seasonals. Plenty of creative cocktails are also offered
To keep up to date on the Rose & Crown's weekly specials, be sure to check out their website. You can also see what other people have been eating on their Facebook page.
Kick Back on St. Patty's Day
A raucous party can be fun on St. Patrick's Day, but it's okay to just kick back and relax, too. All three pubs on this list offer great food and excellent libations in a calmer, friendly setting. Stop in to all three for a beer and some entertainment.