The capital city of Delaware, Dover is also the birthplace of the inventor of the phonograph, the home of John Dickson, and is a city that had deep ties to the Underground Railroad in the Civil War. It's also the home of the Air Force Mortuary Affairs Operations, located right on the Dover Air Force Base. It's the only continental mortuary service specifically for the U.S. military, and was created in 2008.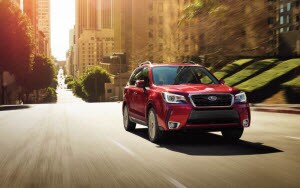 This is a town of great history and civic pride, and people here want the very best vehicles to get them around town, which is why they turn to Winner Subaru. If you're in Delaware and you're looking for a new SUV, find out where to find a 2018 Subaru Forester for sale in Dover, DE, and stop in for a test drive!
2018 Subaru Forester
The 2018 Subaru Forester gets a modest tweak in features this year. It brings to the table a new Black Edition trim which gives you custom black-finished wheels, as well as a new black grille and body trim. Inside on this trim you also get a black cloth upholstery, and gloss-black trim across the dashboard, for a midnight-sleek look from front to back.
Other upgrades come at the Limited level where you get a new cover for the cargo area, and the Touring level gets the standard Subaru EyeSight safety package as well as automatic reverse braking and automatic high beams.
Features on the New Forester
There are six trim levels available for the new Forester, which makes it supremely customizable. These trim levels include the base 2.5i level, the 2.5i Premium, Limited, and Touring, and the 2.0XT Premium and Touring trims. The numbers represent the engine size you'll get with the trim level - either a 2.5-liter 4-cylinder or a turbocharged 2.0-liter 4-cylinder engine.
All Foresters come with standard all-wheel drive, and there are options packages that make certain features available at many different trim levels.
Comfort, Ride and Interior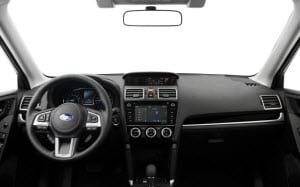 The new Subaru Forester delivers 250 horsepower at the XT level, which puts it as a class leader in performance. It has outstanding braking, precise and athletic handling, a number of customizable driving modes, and plenty of power for all situations.
Inside, the cabin offers supreme levels of space and comfort, as well as outstanding noise dampening to keep road noise to a minimum and deliver a serene drive no matter where you're going. The dashboard is elegant and intuitive, with all controls easy to reach and intuitive to use, from the EyeSight safety package to the outstanding infotainment system.
2018 Subaru Forester for Sale in Dover, DE
If you're looking for a 2018 Subaru Forester for sale Dover, DE, all you have to do is contact Winner Subaru. We'll have a full line of new Foresters the moment they're available on showroom floors. Just stop into our lot, or give us a call to find out when you can take a test drive and own one of these slick new SUVs today!