Driver awareness: it's the key to staying safe while on the road. But with so much happening around you at one time, it's not always easy to keep tabs on everything. Luckily though, when you're behind the wheel of the 2017 Subaru Legacy, you won't have to.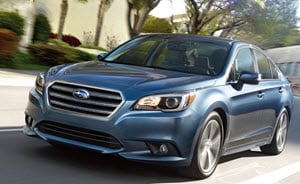 With its incredible array of smart safety technology, the Legacy can keep tabs for you, protecting all drivers in the Middletown, Odessa, and Dover area. The Winner Subaru team is here to show you how.
Keeping an Eye Out for You
Built into the foundation of Subaru safety is its advanced technology. Chiefly, the EyeSight® driver-assisting suite. This suite uses a wide array of sensors and small cameras to monitor the road around you.
EyeSight® has been proven to help prevent accidents with features like adaptive cruise control (ACC). Whereas regular cruise control will only maintain a single speed for you, ACC can apply automatic brakeforce to help maintain safe following distances as well.
If at any time you veer a little too close to another vehicle (or vice versa), EyeSight® will engage the pre-collision braking feature. Once your Legacy has determined that a collision is imminent, it will hit the brakes for you to either mitigate impacts or stop them all together.
All Your Bases Are Covered
Of course, EyeSight® isn't the only safety technology that can be found in the 2017 Subaru Legacy. In addition to these driver-assisting features, you'll have access to several available features.
Take blind spot detection with lane change assist, for instance. Before switching lanes, you should always check behind you. If someone is driving in your blind spot, you may not be able to notice them. Fortunately, blind spot detection will let you know when you're good to go.
The Legacy also features a rearview camera. This a great way to keep track of who's following you, but it can also help guide you in and out of narrow parking spaces.
The Safety Commendations to Back You Up
In spite of all these great gadgets, there's more to the Legacy than just technology. Safety starts with design, and the ring-shaped reinforcement frame found in your vehicle can stand up to a whole lot of force.
Not only that, but its powerful and efficient engine actually has a third benefit: protection. Since the BOXER® engine is flat and has a low center of gravity, it drops below the passenger cabin in an accident, protecting you from additional harm.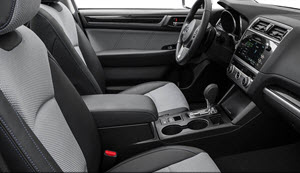 Due to structural features such as these, the 2017 Subaru Legacy has been awarded both a TOP SAFETY PICK+ from the Insurance Institute for Highway Safety, as well as a 5-Star Overall Safety Rating from the National Highway Traffic Safety Administration.
Learn More About the 2017 Subaru Legacy Safety Features
At Winner Subaru, there's nothing more important to us than the safety of our Middletown, Odessa, and Dover customers. Still, we know that you'll have all the protection you need when behind the wheel of the 2017 Subaru Legacy.
To learn more about the Subaru Legacy safety features and more, contact Winner Subaru today!