The 2021 Subaru Love Promise Community Commitment Award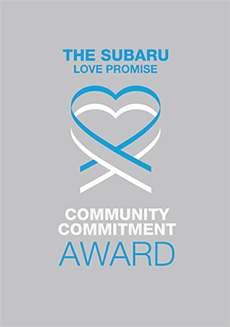 We've been nationally recognized for our dedication to our community and the Subaru Love Promise.
We're honored to receive the 2021 Subaru Love Promise Community Commitment Award. This award nationally recognizes Subaru retailers who are making the world a better place while demonstrating an outstanding commitment to supporting passions and causes in local communities. These efforts are focused in important areas such as the environment, community, health, education, and pets.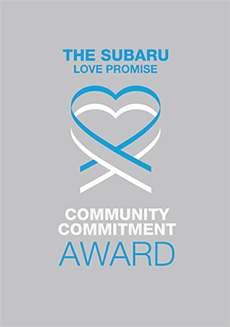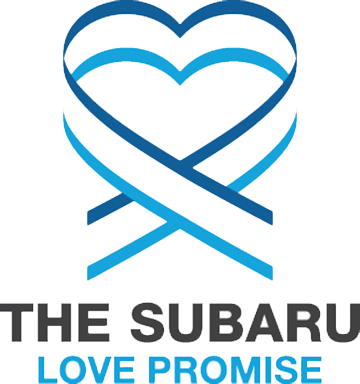 What is the Subaru Love Promise?
Subaru and our retailers believe in making the world a better place and the Subaru Love Promise is our vision of respecting all people. This is our commitment to show love and respect to our customers and to work to make a positive impact in the world.
How is Winner Subaru dedicated locally to the Love Promise?
Our Love Promise reaches out to children in need of school supplies by having a stuff the Subaru Event at Winner Subaru, Dover, DE. We also partner with the Kent County SPCA with an event to collect donations for homeless animals at the shelter. This year we are a major sponsor of Delawarre State Parks for their programs and the environment.
Capital School District, Dover
Love Promise Stories from Winner Subaru
Subaru and Winner Subaru believe in making a positive impact on the communities in which we live and work. We uphold that belief through our Love Promise Community Commitment. Every month, we select inspiring stories from customers and partners from around our area who strive to support our collective commitment and feature them here
Winner Subaru donates to Matthew Heacook - Tracey W
Special thank you to Wendy Schiavone and the salespeople at Winner Subaru-Dover! These amazing folks stepped in without a second thought and raised money for my 12 year old son, Matthew, after we tragically lost his father, Cpl. Keith Heacook of the Delmar Police Dept. Keith was brutally murdered in the line of duty in April of this year. His death has been tremendously hard for us, especially for Matthew. The Winner Subaru salespeople donated $100 for every car sold through the month of May and raised $10,000 for Matthew's trust account ! Thank you Winner Subaru-Dover ! With deepest gratitude and appreciation, Tracey West-Ney
---
Ryan's Dream Ride 2021- benefits Special Olympics - Susan P
As Ryan's mom I want to thank Wendy Schiavone and her Winner Subaru team for their Donation to The Dream Ride 2021 event held by the Laurel, Delaware Iron Legacy Motorcycle Club (ILMC) in Sussex County Delaware at Fat Daddy's BBQ in Georgetown, DE!!!! Ryan is one of the riders who can benefit from the donations made benefiting Special Olympics. Ryan has Cerebral Palsy, Autism, ADHD and several other special needs and is also in a wheelchair but this doesn't keep us from taking him to as many things as we can that he loves. Ryan was one of the Guests of Honor in May 2021 at the Local Dream Ride Event and the Local Chapter of ILMC was able to raise over 13k to donate to Special Olympics!!! What a great feeling to participate in such an amazing event that helps many folks from young children right thru adulthood to be able to become Athletes despite their different Abilities. Thanks again to Winner Subaru for being a part of this event with your generous donation!!!
---
Winner Subaru Supports Village of Hope - Ellen D
On December 22, 2020, Village of Hope was thrilled to accept a very generous donation from the staff of Winner Subaru & Volkswagen in the form of comforters, blankets, sheets, towels, pillows, kitchen towels, oven mitts, cleaning products, toys, and games for the women and children participating in our Steps to Success transitional living program. Village of Hope's mission is to promote self-sufficiency and improve the quality of life among at-risk women and children; these items will help furnish the 14 one- and two-bedroom apartments in our Residential Building and provide our program participants with much-needed supplies. During these trying times, local support is vital to our ability to serve the most vulnerable in our community and we are especially grateful for the generosity extended to us by the Winner team!
---
Winner Subaru Gets 54 Pets Adopted in Dover !! - John P
First State Animal Center and SPCA and 54 of it's adoptable animals have felt the Love Promise this October! With Covid-19 running rampant in the midst of this pandemic and a full shelter of lovable dogs, cats and small furry animals Winner Subaru picked First State Animal Center as their partner in "Share the Love". With their help we had a record breaking month of getting over 50 loving animals placed into caring homes by easing the burden for the month of October. All of these beautiful babies went to their new families being micro-chipped, fully vaccinated and spayed or neutered. With donations being down during these difficult time, Subaru has once again helped us help the animals. THANKS WINNER SUBARU !!
---
Winner Subaru donates to Dover Interfaith Misson. - Sean L
On Wednesday the 25th, Winner Subaru dropped off food and blankets. For the Month of November Winner asked customers and staff to donate food to the local men's shelter. This is Winner's second year and partnering with this organization. We here at Winner Subaru would like to thank our customers and staff for all their donations.
---
Winner Subaru Pet Event - first state a
Winner Subaru partnered with First State Animal Center for a pet adoption on October 24th, 2020. It was a wonderful event and the community came to support the Animal Center by adopting 3 of the 4 dogs that attended the event. We enjoyed giving back to the animal shelter and provided them with Subaru toys and treats to take back to the shelter for the other fur babies!
---
Winner Subaru Supports our millitary. - Sean L
For the month of September, Winner Subaru hosted a donation drive to support our Military and the USO in Dover. We here at Winner would like to thank our customers and staff for all the generous donations received. We were pleased to raise $5,200 dollars, as well as supplies for all of the brave men, woman and families of our Military.
---
Winner Subaru host a blood drive. - Sean L
Winner Subaru hosted a community blood drive with the Red Cross on September 22nd, 2020. This was the first of many blood drives that Winner will be hosting. The event had a great turn out from both the community and our staff. We, here at Winner Subaru, would like to thank all that attended, as well as the Red Cross for allowing us to be apart of this life saving event.
---
Winner Subaru Donation to Child INC. - Sean L
During the Share The Love Event, Winner Subaru partnered with Child Inc. That partnership allowed us to pick them as our local charity, and during that time we asked our customers to help us raise money for their programs. With that help, we raised a little over $9,000 dollars. We want to thank Child Inc again for the partnership, as well as look forward to doing it again this year.
---
Noah's Birthday Parade. - Noah T
On May 17th Winner Subaru participated in another very special birthday event. For most of us adults we understand the gravity of the recent global pandemic, however, for young children, they only know their world is different but they don't understand why. They've been stuck home, haven't seen their friends, they're sports teams, or close family. They've been banned from playgrounds and trips to the zoo or the movies, or theme parks. Little Noah turned 4 in March, just a few weeks after his sisters 1st birthday party. She got a big party filled with family and friends. Noah's party however, scheduled for the first weekend in April, was postponed. The world shut down just a week before, just after his family was getting him hype for his party. His party never came. He was patient, but kept asking to see family and friends that he sorely he missed. He asked his mom "When is my donut party" as he picked as his theme this year. Mom grew tired of responding "I don't know buddy". So with the recent small "drive by birthday parties", Noah's parents had heard about, they decided to reach out to the local Subaru community that they were a part of. From there the Subaru group reached out to further local car clubs, including: jeeps, truck, classics, tuners, motorcycles, american muscle, and emergency vehicles. They even reaching some local news outlets. Winner agreed to give Noah "his own" WRX for the day to take a ride in and sit next to in his grandparents front yard as the epic parade ensued. He was giddy when Sean, the gm of Winner Subaru, handed the keys to him to ride in "his car" off the lot. The event was a huge success with hundreds of much loved vehicles attending. And even though Noah had to return "his" car to Winner, he still talks about that awesome ride on Rt. 9 his Dad took him on in that WRX. Happy Birthday Noah the Subie kid!
---