One of the major advantages of technology is the many ways in which it can increase safety. When you're driving, this is especially true. Many vehicles today attempt to push the boundaries of what driver-assisting technology can do.
Subaru, in particular, has made waves with its impressive Suabru EyeSight technology. This suite of features offer numerous safety benefits to drivers in the Middletown, Odessa, and Dover areas. To show you, our team at Winner Subaru will examine them all.
How Does Suabru EyeSight Work?
 When your Subaru car is equipped with EyeSight, that means it has been equipped with a wide network of sensors. This includes two small color cameras mounted near the rearview mirror.

Essentially, these devices are keeping an eye out for you, and making sure that nothing drifts into your vehicle's bubble. On the flipside, it also makes sure that you don't drift outside of your lane.
How Can Subaru EyeSight Benefit Drivers?
1. You'll see where you couldn't before.
One of the major keys to driver safety is awareness. Normally, you shouldn't have any problem seeing what's ahead of you or within your periphery. However, there's always going to be blind spots, and that's where the real hazard lies.
Fortunately, EyeSight can run a 360-degree scan around your vehicle to ensure you're not in danger of getting side-swiped.
2. Cruise control is smarter than ever before.
Included in the EyeSight suite is an enhanced adaptive cruise control feature. When this function is engaged, your vehicle can monitor following distances for you. That way, if the car ahead slows suddenly, your car will automatically follow suit.
3. You'll be warned whenever you veer off course.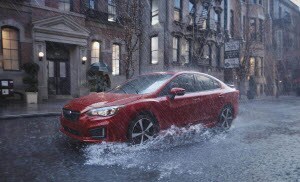 EyeSight knows where exactly you should be on the road: safely in your lane. We know our drivers are keeping their eyes ahead, but we all get distracted every now and then.
If this happens and your vehicle begins to drift out of its lane, EyeSight will send you plenty of warnings. You should have no problem course-correcting the moment it happens.
4. EyeSight thinks fast with pre-collision braking.
All it takes is a split-second for an accident to occur. In those sudden events, it's sometimes hard for us to react quickly enough. Luckily, with Subaru EyeSight there will be no delay. When your car senses danger, it will apply emergency brakeforce to avoid collision.
Nothing is More Important Than Your Safety
Interior comforts, fuel economy, entertainment-all are important facets of a vehicle. However, they will mean very little without your protection. Subaru understand this, which is why it has designed the innovative EyeSight safety suite.
Any drivers in the Middletown, Odessa, and Dover area who would like to test these features for themselves can do so by visiting Winner Subaru. We'll gladly help you get behind the wheel. Stop in today to learn more.