While brake repair can become a major issue, for drivers in Middletown, Odessa, and Dover, this can be an easy fix! Seeing the early warning signs of needing brake repair is essential to fixing the problem before more damage is created.
That's why at Winner Subaru, we've come up with the most common signs that your brakes are on their way to needing replacement and if you should bring your vehicle in to our reliable service center to get checked out.
Screeching and Grinding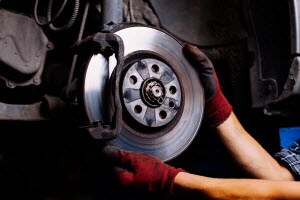 The most common sign that your brakes are in need of replacement is that familiar screeching sound we've probably all experienced. This noise comes from a small part called an indicator (oddly enough), which rubs against the rotor when brake pads have become worn down.
You may also hear a metallic grinding, or even growling, sound, which is a huge red flag that you need to bring your vehicle in to your auto service center. This means that your brake pads have worn to the point of almost nonexistent, and the part that holds the brake pad-the caliper-is rubbing against the rotor.
Essentially, this could mean that the caliper can cause damage to the rotor, without having the brake pad to separate them. Unfortunately, this is a sign that there's a bigger issue, and you'll need a brake inspection immediately.
Fading
If you've ever felt like when you pressed the brake pedal it was pressing all the way to the floor, this is called fading, and is another big sign that your brakes are in need of replacement, or it can mean that there is a leak in the braking system.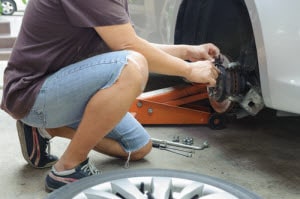 Another easy way to check for a leak is to look for a puddle of fluid when you pull away from a parking spot. If you think you have a leak, this is a serious issue, and you should bring your vehicle in to your service center for inspection right away.
Pulling
Does your vehicle feel like its pulling to one side over another? This is simply called pulling! This can mean that your brake pads have worn down unevenly, which can affect your tires slowing at different speeds, essentially effecting your safety on the road. It is probably time for a replacement!
Shaking or Vibrating
If your rotors become warped, this can affect the braking surface, which results in a vibrating sensation in the brake pedal as you slow down. This is more apparent when driving at higher speeds, but if you're feeling it at lower speeds, this indicates a more serious problem.
Visit Us Today!
To get the most accurate answers on whether or not your brakes need replacing, contact us at Winner Subaru today! You can easily schedule a brake replacement appointment, and allow our expert auto technicians to help you keep your vehicle running its best-and safest.
We provide service to customers in the Middletown, Odessa, and Dover areas, and will be happy to help you keep your vehicle on the road for years to come.