Everyone loves to grab a delicious bite to eat every once in a while, especially when you have a breathtaking coastline to dine next to. Luckily, we know of a few places around Bethany Beach, DE, to satisfy your hunger for delectable seafood.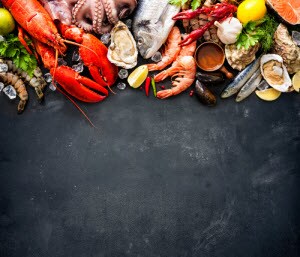 If you're in the Middletown, Odessa, and Dover area and want to find the best seafood restaurant nearby, check out our top three contenders!
The Blue Crab Bethany Beach
In the summer of 2004, Tim Haley opened up this family-owned restaurant to give his neighbors in Bethany Beach not only delectable seafood, but also a comfortable environment to unwind and relax after a long day. Using their established relationships with local farmers, the dedicated chefs at The Blue Crab use only fresh, locally grown ingredients, from their crab meat to their crisp vegetables.
You've Got to Try…
Seaside Pasta. This tasty dish unites clams, mussels, shrimp, scallops, and fresh calamari in a light butter, garlic, and wine sauce with diced fresh tomatoes and parsley tossed with linguine.
Crab Sauté Sandwich. On the lunch menu, you can bite into The Blue Crab's version of a Philly cheesesteak sandwich: fresh, jumbo crab meat sautéed with onions and served on a soft sub roll with melted cheese.
Off the Hook
You may have heard of these "hook" restaurants along the East Coast. In fact, there's four of them that were opened in the short span of five years. Off the Hook was the first, gaining so much success and popularity from the locals in Bethany Beach that it helped launch three other restaurants.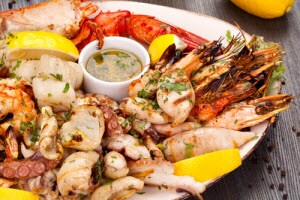 Today, the chefs are continually inspired by the serene beauty of the coastline, striving to masterfully create the finest culinary masterpieces dedicated to freshness, creativity, and comfort. Luckily, it seems that they achieve this task expertly!
You've Got to Try…
Grilled Salmon.Although this initial dish isn't anything new, the chefs at Off the Hook added their own unique and delicious touch to it with honey-roasted parsnip, hopped parsnip puree, Brussel sprouts, Tasso ham, pomegranate seeds, and crispy parsnip.
Butcher's Cut. This dish combines scalloped gouda Yukon golds, wild mushrooms, braised bacon, Cipollini onions, and a Madeira pan sauce for a deeply satisfying dinner.
Bluecoast Seafood Grill & Raw Bar
If you're longing for a more sophisticated place to eat, then Bluecoast is the place to go. Over the years, this celebrated restaurant has earned a myriad of awards and accolades, most notably for its refined food, extensive wine list, and exceptional service. It was even named one of the "Top 10 Destination Restaurants" in the United States by Attaché magazine. With a commitment to fresh food served by meticulous chefs, Bluecoast won't disappoint.
You've Got to Try…
Crab Carbonara. This dish will be sure to delight your taste buds with its spaghetti mixed with bacon, arugula, peas, pecorino, yolk cream, and grated smoked egg.
Seafood Stew. This classic dish was refined and perfected, including fresh fish and shellfish, tomato broth, fresh herbs, and toast.
Satisfy Your Hunger
It's hard to choose between these three well-loved restaurants, but if you're craving some seasoned shrimp, butter-drenched lobster, or tender crab legs, make sure to give each of these restaurants a chance to impress you. You can check their menus online today!