When we think about our dream car, usually we have something sportier in mind-something with tons of horsepower, a stylish design, and superior handling. These cars definitely make great toys, but their prices tend to run pretty steep.
Fortunately, any drivers in the Middletown, Odessa, or Dover area can still have a sport vehicle at an affordable price with the 2017 Subaru WRX. To give you a taste of what this vehicle has to offer, our team at Winner Subaru have put together this detailed review.
2017 Subaru WRX: Performance Specs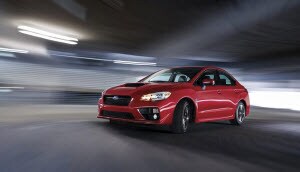 Speed is absolutely necessary in any sport vehicle, and with the 2.0L BOXER® engine found in the 2017 Subaru WRX, you're sure to get plenty of it. With this powertrain, you can easily generate up to 268 hp and 258 lb-ft of torque.
Nevertheless, thanks to its many engine optimizations, the WRX can still maintain an average of 27 mpg highway and 20 mpg city.1 This is achieved in large part thanks to its twin scroll turbocharger with intercooler.
Exceptional Handling
To properly back up that speed, your vehicle needs extra handling features to compensate, which the WRX most certainly does. Features like active torque vectoring and vehicle dynamics control ensure that your vehicle can handle sharp cornering with ease.
These features are piled on top of the vehicle's standard symmetrical all-wheel drive and traction control system, both of which will increase your car's grip and stability even on slick roads.
The Safety You've Come to Expect
For Subaru, driver safety is always a top priority. This isn't going to change just because you're driving a sportier vehicle. On the contrary, the additional handling and traction features in the WRX actually make it even safer.
That's not to mention, it comes with an incredibly rigid framework as well. The ring-shaped reinforcement frame body structure allows the vehicle to stand strong against impacts.
The BOXER® engine itself even comes with some safety qualities. Due to its flat shape and low center of gravity, it actually drops below the passenger cabin in an accident, protecting you from harm.
Comfortable Interior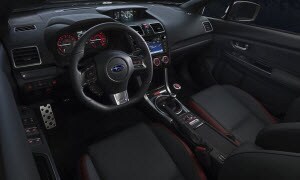 Characteristic of most sport vehicles is a sleek and comfortable interior, which you'll easily find in the Subaru WRX. The performance design front seats include sharp red stitching, adding an extra touch of style. The driver's seat is also adjustable six ways for your comfort.
While seats are trimmed in cloth, leather accents can be found throughout the interior. For example, both the steering wheel and shifter handle are wrapped in leather, creating a classier look.
Get Behind the Wheel of a 2017 Subaru WRX Today
For drivers in the Middletown, Odessa, and Dover area, now is the time to make your dreams of owning a sport vehicle a reality. All you have to do is get behind the wheel of the fast and affordable 2017 Subaru WRX.
If you'd like to take this car for a spin, doing so is easy at Winner Subaru. Contact us today to schedule your test drive.
1 EPA-estimated fuel economy. Actual mileage may vary.