Subaru offers an extremely reliable and efficient sedan with the 2017 Subaru Legacy. If you're in the market for a vehicle like this to get around the Dover, Middletown, and Odessa area, then you might want to consider giving this one a test drive. In this article, we'll explore this model further to give you a better idea of what to expect.
The 2017 Subaru Legacy - NOW IN STOCK!
In our review, we'll focus our attention on important components vehicle performance, entertainment and technology amenities, and safety features. This article will help you to understand the impressive features that this vehicle offers. You may even end the search for your next car.
2017 Subaru Legacy Vehicle Performance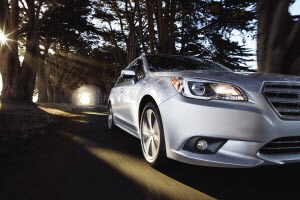 The 2017 Subaru Legacy is outfitted with the uniquely designed 2.5-liter 4-cylinder Subaru BOXER® engine. This engine lays flat under the hood and features horizontally opposed valves. Due to its low center of gravity, this engine excels in fuel efficiency with its EPA-estimated 25/34 city/highway mpg.
The Lineartronic CVT® (continuously variable transmission) offers smooth acceleration while the Subaru Legacy reaches its optimal output of 175 horsepower.
Entertainment and Technology Amenities
Sitting at the center of the dashboard is the STARLINK™ 6.2-inch high-resolution LCD touchscreen that can be used to access your preferred audio entertainment. Your options include the CD player and the HD Radio®, which delivers high-quality audio from standard AM/FM broadcasts.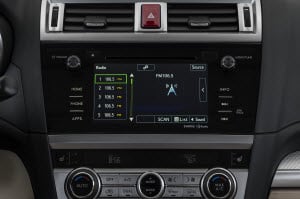 The Bluetooth® system allows you to integrate your smartphone with the infotainment system. You can make calls from the road or stream audio. The Subaru Legacy also features Pandora®, iHeart® Radio, and iTunes® tagging to maximize your entertainment options.
Safety Features
One of the most important components of the safety features is the Symmetrical All-Wheel Drive. This drive system, powered by the Subaru BOXER® engine, allows for superior handling and agility while executing evasive maneuvers during emergency situations.
The Vehicle Dynamic Control system keeps your vehicle on track by applying brake pressure to the tires with the least amount of traction in an effort to guide your vehicle back to its intended path.
The Subaru Legacy features advanced airbags. These airbags will measure the severity of impact and inflate accordingly to help reduce injuries like whiplash. The airbag system includes front, side curtain, and side pelvis/torso airbags.
Learn More About the 2017 Subaru Legacy
Drivers like you from the Dover, Middletown, and Odessa area learned all about the 2017 Subaru Legacy and its features and abilities. You learned about the Subaru BOXER® engine and how it delivers power and efficiency. We also peeked inside to show you the entertainment and technology amenities. You learned that you have a wide variety of entertainment options to make your commutes fun.
We also looked at the safety features. You learned about the Symmetrical All-Wheel Drive system and how it keeps you in control. You also saw the advanced airbag system and learned about how it protects you and your passengers. Overall, you learned that this vehicle offers you a great deal, but you can always learn more.
Schedule your test drive of the 2017 Subaru Legacy with us at Winner Subaru in Dover.