Drivers in the Dover, Middletown, and Odessa area can't wait for the 2017 Subaru Forester. This impressive and efficient midsize SUV is an improvement on an already-loved vehicle, so we're going to explore the new model a bit deeper to show you what to expect. In this article, we'll look at the body design, interior entertainment features, and engine performance.
By reading this Subaru Forester review, you'll gain a wealth of knowledge about the 2017 Subaru Forester so you'll know what to expect when you come to Winner Subaru for a test drive. You'll know then if this midsize SUV is right for you and your family.
2017 Subaru Forester Review: Body Design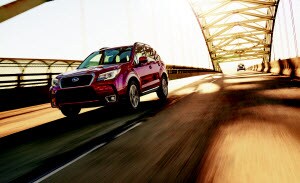 Keeping up with both style and substance, Subaru sticks with their if-it-ain't-broke-don't-fix-it mentality by only changing a few things with the new Subaru Forester.
The new hexagonal grille with its sleek accents make this vehicle stylish even from the front. The body-colored bumper gives the vehicle a complete and flawless look. The base-level Subaru Forester comes with 17-inch aluminum alloy wheels, whereas the 2.0XT trim levels feature 18-inch high-contrast black and machined finished wheel designs.
Subaru Forester Review: Interior Entertainment Features
The STARLINK™ Multimedia System is back in full force with an upgraded screen size, from last year's 6.2-inch touchscreen to the 7-inch featured in the 2017 Subaru Forester. This media hub allows you to access features such as the radio and CD player, which can read MP3 files. The vehicle is outfitted with six speakers to deliver audio enjoyment.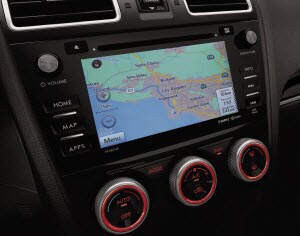 The newest Forester, like last year's model, features Bluetooth® technology that allows you to make or receive phone calls from the road while keeping your hands on the wheel. This feature can also be used to stream music directly from your smartphone's library or music apps.
Subaru Forester Engine Performance
The 2017 Subaru Forester features the uniquely designed 2.5-liter four-cylinder Subaru BOXER® engine. This flat-laying engine gets the vehicle to reach 170 horsepower, although opting for the turbocharged intercooled engine sees an increase to 250 horsepower.
The optional Lineartronic® CVT (continuously variable transmission) excels as far as fuel efficiency, with an EPA-estimated 26/32 city/highway mpg-an increase from the 2016 CVT-equipped Subaru Forester that got 24/32 city/highway mpg.
A new addition to the 2017 Forester's performance is Active Torque Vectoring. Working with the Symmetrical All-Wheel Drive, it shows superior handling and helps to reduce understeering while cornering, giving you complete control on the road.
Subaru Forester Review Outcome
In this article, you learned about the 2017 Subaru Forester and its remarkable features and abilities. You learned about the slight alterations to the body that give it an enticing aesthetic and the vehicle's infotainment system and entertainment features.
We also looked under the hood and saw an impressive engine that offers a unique balance of power and efficiency. Overall, you learned that the Subaru Forester continues to improve, and the 2017 model shows that in every aspect.
Learn even more about the 2017 Subaru Forester by contacting our team at Winner Subaru, your trusted dealership in the Dover, Middletown, and Odessa area.